Reflections
The Reasons Behind the Reflections

I started writing reflections during the initial few months of my first job as a counselor at the Rockingham County Mental Health Center in Wentworth, North Carolina. Part of the reason was to relieve stress. Working with individuals who have major concerns or issues in life can be taxing and toxic. Writing reflections is a way of getting feelings out and moving on in a way that is cleansing. Another reason for writing was to capture more of what was happening in sessions than my clinical notes would allow. The notes seemed wooden and inflexible. The reflections were fluid and flowing. Finally, I wrote briefly and descriptively, sometimes metaphorically, because it was all I had time to constructively do in between clinical sessions to stay productive and focused. Working in a mental health center was hectic. There were a lot of clients to see and only one of me. (Cloning and holograms were not options then … or now).
Since my early clinical days, I have continued to write about counseling situations and about my own life. I find it therapeutic, refreshing, sobering, insightful, and rejuvenating. Below are some reflections that are professional (they have been published) and some reflections that are personal (they are events in my life's journey).
Some Professional Reflections

In the Midst of the Puzzles and Counseling Journey
There is a quietness that comes
in the awareness of presenting names
and recalling places                                                   

in the history of persons
who come seeking help.
Confusion and direction are a part of the process
where in trying to sort out tracks
that parallel into life
a person's past is traveled.
Counseling is a complex riddle
where the mind's lines are joined
with scrambling and precision
to make sense out of nonsense,
a tedious process
like piecing fragments of a puzzle together
until a picture is formed.
Gladding, S. T. (1978). In the midst of the puzzles and counseling journey. Personnel and Guidance Journal, 57, 148. copyright Samuel T. Gladding.
Reality Sits in a Green-Cushioned Chair
In the midst of a day
that has brought only grey skies, hard rain,
and two cups of lukewarm coffee,
you come to me with Disney World wishes

waiting for me to change into:
a Houdini figure with Daniel Boone's style
Prince Charming's grace and Abe Lincoln's wisdom
who with magic words, a wand,
frontier spirit,  and perhaps a smile
can cure all troubles in a flash.
But reality sits in a green-cushioned chair,
lightning has struck a nearby tree,
yesterday ended another month,
I'm uncomfortable sometimes in silence,
and unlike fantasy figures
I can't always be
what you see in your mind.
Gladding, S. T. (1973). Reality sits in a green-cushioned chair. Personnel and Guidance Journal, 54, 222. copyright Samuel T. Gladding.
Autumn Storm
Your words splash heavily upon my mind
like early cold October rain
falling on my roof at dusk.

The patterns change like an Autumn storm
from violently, rumbling, thundering sounds
to clear, soft steady streams of expression.
Through it all I look at you
soaked in past fears and turmoil,
then patiently I watch with you in the darkness
for the breaking of black clouds
that linger in your turbulent mind
and the dawning of your smile
that comes in the light of new beginnings.
Gladding, S. T. (1975). Autumn storm. Personnel and Guidance Journal, 54, 149. Copyright 1975 by Samuel T. Gladding.
Memory Traces
Active as I am in sessions,
going with you to the marrow of emotions,
our shared journey has an end.
Tonight, as you hesitantly leave my office
to the early darkness of winter days
and the coldness of December nights,

you do so on your own.
Yet, this season of crystallized rain
changes, if however slowly,
and our time and words together
can be a memory from which may grow
a new seed of life within you,
not without knowledge of past years' traumas
but rather in the sobering realization
that in being heard a chance is created
to fill a time with different feelings,
and savor them in the silent hours
when you stand by yourself alone.
Gladding, S. T. (1977). Memory traces. North Carolina Personnel and Guidance Journal, 6, 51. copyright 1977 by Samuel T. Gladding.
Tea-kettle Song
I know how the pressure can build sometimes

in your own metallic tea-kettle world,
sporadically you whistle to me,
at other times you explode!
Somewhere beneath that noisy facade
(in silence or stillness perhaps)
feelings might flow with quickness and strength,
like the waters of the Dan or the Shenandoah,
but now they incessantly boil in your mind
steam-filling dark shadows and choking conversation.
Gladding, S. T. (1974). Tea-kettle song. School Counselor, 21, 209.  Copyright 1974 by Samuel T. Gladding
Here and Now
I feel at times that I'm wasting my mind

as we wade through your thoughts and emotions.
With my skills I could be in a world-renowned clinic
with a plush, private office, soft padded chairs,
and a sharp secretary at my command,
instead of here in a pink cinderblock room
where it leaks when it rains
and the noise seeps under the door like water.
But in leaving, you pause for a moment
as your voice spills out in a whisper:
"Thanks for being here when I hurt."
With those words my fantasies end, as reality,
like a wellspring begins filling me
with life-giving knowledge, as it cascades through my mind,
that in meeting you, when you're flooded with pain,
I discover myself.
Gladding, S. T. (1975). Here and now. Personnel and Guidance Journal, 53, 746. Copyright 1975 by Samuel T. Gladding.
Patchwork
She works in a world I have never known
full of rainbow pills and lilac candles
woven together with simple time-stitches
,
a pattern of color in a gray fabric factory,
where she spends her days
spinning threads
that go to Chicago by night.
Once with a little girl smile and a giggle
she flew to Atlanta in her mind,
opening the door to instant adventures
far from her present fatigue,
that was a journal we shared
arranging her thoughts in a patchwork pattern
until the designs and desires came together.
Gladding, S. T. (1974). Patchwork. Personnel and Guidance Journal, 53, 39. Copyright 1974 by Samuel T. Gladding.
The Bandaid Man
At times I envy the bandaid man
who cleaned my cuts when I was young
while painting me as "mercurochrome clown"
before he patched my pain with adhesive.

That was security to know he cared and would be around
to fix, when possible, all the hurts of childhood
that come in growing to be a man.
His job, I think, was easier than mine
for in counseling I cannot always see
your past wounds, scars, and might-have-beens;
If I could, on days like today,
I might like the old man I remember
try with gentleness to cover them,
for you sit beside me in tears
and I know how slowly it takes words to heal.
Gladding, S. T. (1975). The bandaid man. Personnel and Guidance Journal, 53, 520. Copyright 1975 by Samuel T. Gladding.
Harbor Thoughts
Far in the back of his mind he harbors thoughts

like small boats in a quiet cove
ready to set sail at a moment's notice.
I, seated on his starboard side,
listen for the winds of change
ready to lift anchor with him
and explore the choppy waves of reality ahead.
Counseling requires a special patience
best known to seamen and navigators,
courses are only charted for times
when the tide is high and breezes steady.
Gladding, S. T. (1985). Harbor thoughts. Journal of Humanistic Education and Development, 23, 68. Copyright 1985 by Samuel T. Gladding.
Portraits
I skip down the hall like a boy of seven
before the last bell of school
and the first day of summer
My ivy-league tie flying through the stagnant air

that I break into small breezes as I bobblingly pass.
At my side, within fingertip touch,
a first grade child with a large cowlick
roughly traces my every step
filling in spaces with moves of his own
on the janitor's just waxed floor.
"Draw me a man"
I stop and request
And with no thought of crayons and paper
he shyly comes with open arms
to quietly take me in.
Gladding, S. T. (1974). Portraits. Personnel and Guidance Journal, 53, 110. Copyright 1974 by Samuel T. Gladding.
Through the Seasons to New Life
Just like fall foliage
we watch what you bring forth each September.

Your changes are not as dramatic as the red of Maples,
or as warm as the orange of twilight fires;
But your presence, both individually and collectively,
like leaves adds color to a campus
that would otherwise be bland
in the shades of administration grey.
We celebrate your coming
much as we look forward to the crisp cool air
at the end of summer.
We welcome your spirit
for it enlivens us to the metaphors and ideals
that live unchanging lives …
Gladding, S. T. (1982). Through the seasons to new life. Humanist Educator, 20, 122. Copyright 1982 by Samuel T. Gladding.
 Scars
As our sessions go on you speak of your scars
and show me the places where you have been burned.
Sadly, I hear your fiery stories
reliving with you, through your memories and words,
all of the tension-filled blows and events

that have beaten and shaped your life.
"I wish I were molten steel" you say,
"And you were a blacksmith's hammer.
Maybe then, on time's anvil, we could structure together
a whole new person, with soft smooth sounds,
inner strength and glowing warmth."
Gladding, S. T. (1977). Scars. Personnel and Guidance Journal, 56, 246. Copyright 1977 by Samuel T. Gladding.
Of Frogs, Princes and Lily Pond Changes
She went about kissing frogs
for in her once-upon-time mind
that's what she had learned to do.
With each kiss came expectations
of slimy green changing to Ajax white.
With each day came realizations
that fly-eating, quick-tongued, croaking creatures
don't magically turn to instant princes
from the after effects of a fast-smooching,
smooth-talking, helping beauty.
So with regret she came back from a lively lily-pond
to the sobering stacks of the village library
to page through the well-worn stories again
and find in print what she knew in fact
that even loved frogs sometimes stay frogs
no matter how pretty the damsel or how high the hope.
Gladding, S. T. (1976). Of frogs, princes and lily pond changes. Copyright by Samuel T. Gladding.
 Twilight
When all my clients have left the office
I turn off the silent overhead lights

and watch a lingering afternoon sun,
like a patient court square artist,
slowly spread gold-tinged hues
across a wooden floor canvas
and onto my cluttered desk.
That moment fills me with a sense of awe
for quiet light and moving life.
Walking in twilight
I picture past sessions
and wonder if lives I so fleetingly touched
will dare envision their inner beauty
painted in the colors and grace of time….
Gladding, S. T. (1975). Twilight. Personnel and Guidance Journal, 45, 230. Copyright 1975 by Samuel T. Gladding.
Secrets
Out of the depth of your mind come the secrets,
rough, diamond-shaped forms,
slowly pressured in pain and cut with hope.

With inner strength
you mine repressed memories
and change your expression
as hope is released.
Privately, I wish for more of your story
but the struggle is deep and the thoughts are too heavy
to be quickly lightened with insight.
So with the group I patiently listen
and silently applaud your emergence.
Gladding, S. T. (1990). Secrets. Journal of Humanistic Education and Development, 28, 141. Copyright Samuel T. Gladding.
Still life                                                                                                                                                                                       
I watch the children line up like ducks
all in a row, except one.
Noisily they ramble past concrete walls
follow-the-leader style
behind a blond-haired woman,
in a light yellow dress,
who quietly talks to them through her motions.
Today is picture day in the school
with a jolly old man who says: "Cheese"
tossing tidbit compliments before boys and girls
as they fix their smiles at him.
In just a flash roles are caught,
a moment recorded, and lines form again.
Straight and precise the children walk
all except one, who in dimly-lit halls,
rapidly steps in a zigzag manner
defying a rule and defining himself.
Gladding, S. T. (1975). Still life. North Carolina Personnel & Guidance Journal, 4, 28. Copyright Samuel T. Gladding.
Journey
I am taken back by your words
to your history and the mystery of being human
in an all-too-often robotic world.
I hear your pain

and see the pictures you paint
so cautiously and vividly.
The world you draw is a kaleidoscope
ever changing, ever new, encircling, and fragile.
Moving past the time and through the shadows
you look for hope beyond the groups you knew
as a child.
I want to say: "I'm here. Trust the process"
but the artwork is your own
so I withdraw and watch you work
while occasionally offering you colors
and images of the possible.
Gladding, S. T. (1990). Journey. Journal of Humanistic Education and Development, 28, 142, Copyright by Samuel T. Gladding.
Rainbow                                                                                                                                                               
With age she has learned
to forgive the groups
that mistreated her
because of her color.
Each Saturday she now bakes bread
and takes it to the local mission
where she stays to cut and serve it   

with love and a main dish.
Her grace has overcome years of hatred,
angry words, and hours of sadness,
her brightness exudes a subtle warmth
everyone calls her "Rainbow."
Gladding, S. T. (1997). Rainbow. Copyright by Samuel T. Gladding.
Group Dynamics
Emotions ricochet around the group
fired by an act of self-disclosure 

in an atmosphere of trust.
I, struck by the process,
watch as feelings penetrate the minds
of involved members
and touch off new reactions.
Change comes from many directions
triggered by simple words.
Gladding, S. T. (1989). Group dynamics. Copyright by Samuel T. Gladding.
Some Personal Reflections

Beecher Road
I walk thoughtfully down Beecher Road
at the end of a summer of too little growth,

the autumn wind stirring around me
orange remnants of once green leaves.
I am the son of a fourth grade teacher
and a man who excelled in business,
a descendant of Virginia farmers
and open-minded Baptists,
the husband of a Connecticut woman,
the father of hazel-eyed children.
Youngest of three, I am a trinity
counselor
teacher
writer.
Amid the cold, I approach home,
midlife is full of surprises.
Gladding, S. T. (1993). Beecher Road. Copyright Samuel T. Gladding.
Without Applause
At thirty-five, with wife and child
a Ph.D.
and hopes as bright as a full moon
on a warm August night,
he took a role as a healing man,
blending it with imagination,
necessary change and common sense,     

to make more than an image on an eye lens
of a small figure running quickly up steps;
Quietly he traveled
like one who holds a candle to darkness
and questions its power
so that with heavy years, long walks,
shared love, and additional births
he became as a seasoned actor,
who, forgetting his lines in the silence,
stepped upstage and without prompting
lived them.
Gladding, S. T. (1974). Without applause. Personnel and Guidance Journal, 52, 586. Copyright 1974 by Samuel T. Gladding.
A Poem in Parting
When you wake up one morning
and feel you've grown old
take this poem down from your shelf
and slowly read its well-wrought lines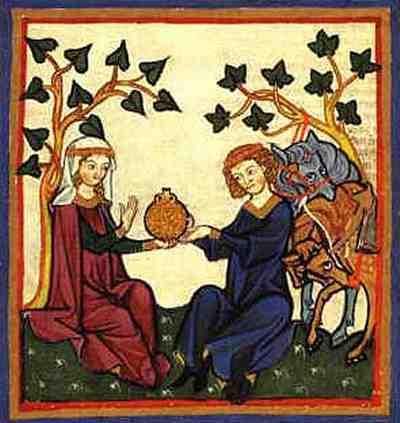 which fade like memories of our youth.
Those were the days on the knolls of Reynolda
when times were measured in looks not words,
Those were the moments we wrote in our memories
and now, like fine parchment, though faded they remain
clear impressions in the calmness of age,
bringing warmth and smiles to the chill of the season:
brightness in a world full of grey.
Gladding, S. T. (1968/1989). A poem in parting. Copyright 1989 by Samuel T. Gladding.
Bittersweet
In the cool grey dawn of early September,
I place the final suitcase into my Mustang
and silently say "good-bye"
to the quiet beauty of North Carolina.
Hesitantly, I head for the blue ocean-lined coast
of Connecticut
bound for a new position and the unknown.
Traveling with me are a Sheltie named "Eli"

and the still fresh memories of our last counseling session.
You, who wrestled so long with fears
that I kiddingly started calling you "Jacob,"
are as much a part of me as my luggage.
Moving in life is bittersweet
like giving up friends and fears
the taste is like smooth, orange, fall persimmons,
deceptively delicious but tart.
Gladding, S. T. (1984). Bittersweet. Counseling and Values, 28, 146. copyright Samuel T. Gladding.
Ancestral Thoughts
Nathaniel joined a band of rebels
and from that colonial action

a nation sprang and a government grew.
I, seven generations removed,
ponder the boldness of his group
wishing for such courage
in my deepest interactions
and knowing on some level, at times,
his resolve is mine.
Gladding, S. T. (1988). Ancestral thoughts. Copyright by Samuel T. Gladding.
Dance Street
Dance Street began before I was born
and I don't know where it will end,
the course is full of history which started with my kin.
The street began in downtown Richmond     

lined with bricks, entitled "Dance,"
for a man who bore the burden
of fighting for the proud and beaten.
When war ended he built anew,
cared for the "cause" but more its people.
Moving with courage in the midst of strife
he left an ancestral legacy
for the dance of life.
Gladding, S. T. (1967/1991/2013). Dance street. Copyright by Samuel T. Gladding.
An Image of Timothy
In my mind there's a picture of Timothy
and a vision of nonverbal memories.

Awakened to that awareness
I walk lightly and with joy —
a man having watch the birth of his son
and vicariously experienced the labor.
White clouds blow in the cool March air
but my sight is focused on a previous night
when new movement came to life
in the rhythmic cry of an infant.
Gladding, S. T. (1991). An image of Timothy. Copyright by Samuel T. Gladding.
November 13th
After giving birth to Nathaniel
you asked for a Wendy's shake and fries.
I can still remember as if yesterday
the words that broke the silence

surrounding the miracle of new life:
"I'm hungry."
Walking from your room still dazed
through the Sunday streets of Birmingham
I brought you back your first request from labor.
That cold November morning is now a treasure in my mind
as are you and the child that you delivered.
Gladding, S. T. (1993). November 13th. Copyright Samuel T. Gladding.
Milestone
My son, Benjamin, rolls over in his crib
to the applause of his mother and delight of himself,
while I catch an afternoon flight to Saint Paul

to conduct a counseling seminar.
These are milestones in our lives
marking steps in family development
as we reach out to touch
and are changed through our behaviors.
At 33,000 feet, I drift in and out of sleep
aware that in the process, but on a different level,
my wife and child do the same.
In the construct of images and depth of thought
we attempt in special ways
to bridge the gap of distance.
Gladding, S. T. (1988). Milestones. Copyright by Samuel T. Gladding.
Eli
As an old dog, he has survived
the marriage of his master to a Nutmeg woman,
the first clumsy steps of sandy-haired toddlers,
and the crises of moves around eastern states.
So in the gentle first light of morning

he rolls leisurely in piles of yesterday's clothes
left over from last night's baths by little boys,
then slowly, with a slight limp,
he enters his daily routine,
approaching the kitchen at the breakfast rush hour
to quietly consume spilled cereal
and dodge congested foot traffic.
Sure of his place in a system of change
he lays down to sleep on an air vent.
A family grows around him.
Gladding, S. T. (1991). Eli. Copyright by Samuel T. Gladding.
In Lines Through Time
In the morning light I write of you,
as my dreams fade to memories
in the midst of winter's chill
and the smell of fresh-brewed coffee.   

In the noonday rush I think of you,
as I log frail thoughts into a dog-eared journal
during silence preceding the joining of friends
for lunch and the taste of fresh insights.
At home, past dusk and after traffic, I read about you,
some words from my pen, some from more intimate admirers.
At bedtime as I lay down
my head dances with emerging feelings.
In the knowledge which is your presence
my life becomes more open
like a book in progress;
I live with you in lines through time.
Gladding, S. T. (1990). In lines through time. Copyright Samuel T. Gladding.
Launching

At dusk I ponder the journey's end
and in a spirit of transformation
I quietly launch forth frail ideas
into waters filled with hope and turmoil
conscious I may never see their final form
yet knowing inside, peacefully,
that others will keep the best on course.
Gladding, S. T. (1991). Launching. Copyright Samuel T. Gladding.